PRODUCT DESCRIPITION
Unagi kabayaki is one of the most favorable cuisine among Japanese and Korean market. lt is produced by steaming and roasting freshwater eel fish (unagi)with adding soy sauce, which keeps the original flavor of fish meat itself. It is popular in Japanese restaurant and seasoned by local chef. lt is full of characteristics.Premium Unagi without Sauce for Sushi cuisine
Ø Freshwater eel (Anguilla Japonica)
Ø Roasted and steamed but without any seasoning or sauce
Ø Low calories but high nutritional value
Ø Flavor: with original flavor of eel meat itself
Ø No malachite green/GMO free/ No MSG
Ø ltem(Species): Unagi kabayaki
Ø Size: 30P/10KG/CARTON
Ø Taste:Original flvor of eel, the meat is firm and the skin is chewable
Ø Packing: Packed in bulk,5kg/box*2/10kgs/ctn
Ø Storage & Shelf life: 24 months at-18C
Ø Place of Origin: Guangdong.China
Ø Lead Time: 30 days
Ø Shipment: By sea
Ø Certificates: FDA,HACCP.ISO,HALALCCPIT
Ø Payment Term :TT, L/C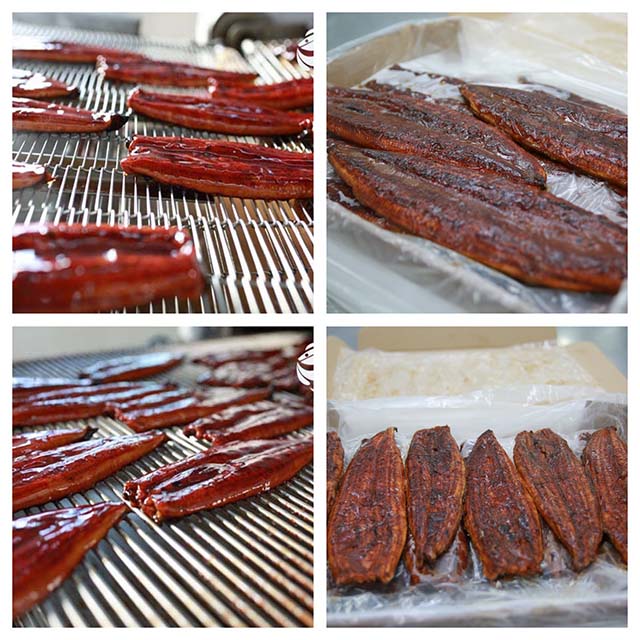 We select live eel raw materials very seriously. Safety comes first.
The sample is selected and tested in laboratory several time before, during and after production to guarantee that it is safe from all the aspects.
We taste the sample several time during production to avoid any mud taste or fish smell etc. The fish meat are tender, soft but the texture has to be firm, and it must smell nice and attractive.
Everything is under control by our team. The meat and skin are roasted with proper time and temperature, then steamed、quick-frozen、 weighted、 packed and finally sent to our specific cold storage at -18C.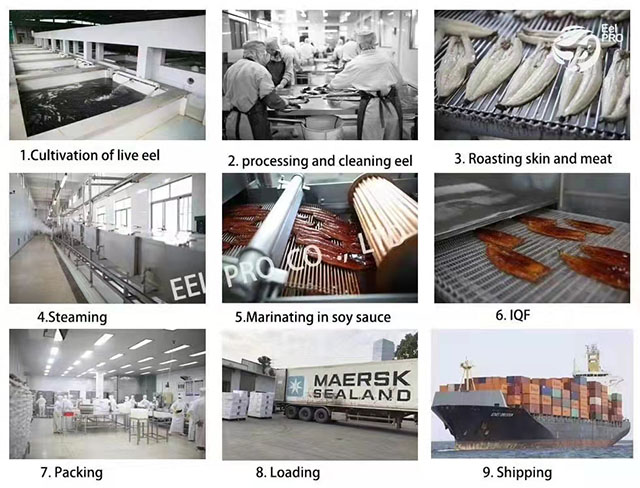 How to eat it at home ?
1.Preparing some unagi sauce in advance.
2.Grilling the eel on the barbecue, brushing the unagi sauce on the skin and meat repeatedly for around 10 minutes.
3. Put finished unagi on the rice, and it is better to eat with some toppings such as nori or tamagoyaki etc whatever you want.
FAQ
Q: What is HS code of your product ?
A: 1604170090
Q: How to pack your unagi shirayaki fillet ?
A: Packed in bulk, 5kgs/box *2/ 10kgs/master carton
Q: Which size can you supply ?
A: 30P/35P/40P/45P/50P. Take 30P for example, It means there are 30pieces for a carton with net weight of 10kgs. The net weight is always 10kgs per carton for each size.
Q: How long you need to prepare the cargo ?
A: 30 days especially for the first time because package confirmation do need some more time. Normally we prepare and keep regular stock in our cold storage for our long-term partners and so can ship the container more quickly
even under some special situation.
Q: Can you help me make my own brand product?
A: Sure,ODM/OEM service could be accepted as long as MOQ is reached. We can provide customized service for package, flavor and others. It will be perfect if you could provide your own design.
Q: What kind of Certificate you can provide for Custom Clearance ?
A:BL,Certificate of Origin, Commercial invoice and Packing list is imperative for all the countries.The specific Certificate such as Health Certificate,Sanitary Certificate,Oxolinic Certificate,Veterinary Certificate etc are also available.
Q: How to transport your cargo to overseas countries ?
A:Usually it is shipped by reefer container of 20GP or 40HQ.
The temperature must be at or below -18C and Vent must be closed.
The crazy freight since COVID-19 make us loading 40HQ mostly to save cost for our partners.
We compare and select shipping line carefully and try our best to apply for better conditions for our partners.
Usually only 7+ free days for destination port is allowed.