Where to buy eel sauce?
Unagi kabayaki is delicious because the freshness of the fish and the sweetness of the sauce. You might think that a meal with kabayaki sauce is Japanese, but in fact most kabayaki sauce in the world is produced in China.
In Japan, kabayaki sauce is indispensable for fish, especially for eel-related dishes.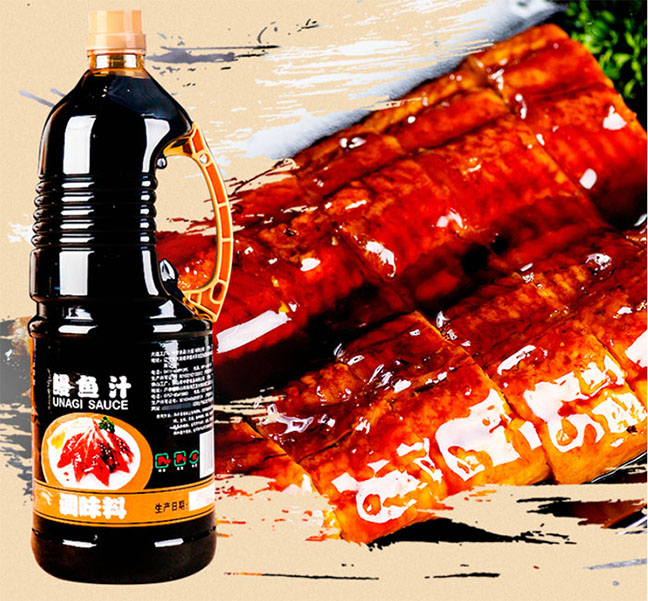 First, the eel is eviscerated, and then the eel bones are removed. Then the eel is sliced, put on the skewers, and dipped in kabayaki sauce before roasting.
What is teriyaki sauce? In fact, it is equivalent to soy sauce used in soy sauce. Japanese products are made in China, and then imported to Japan, they are sold under different standards.
what is eel sauce made of ?
The production process of professional eel sauce manufacturers is generally as follows:
1. A method for making eel soy sauce is characterized in that it includes the following steps:
(1) Eels are deheaded and gutted, washed with clean water, then drained and passed through meat mincer to get eel minced meat;
(2) 98% (V/V) ethanol solution of 8-12% mass and 1.0-3.0% reducing sugar were added into the chopped eel meat, and stirred evenly. Then, the maillard reaction occurred at 80-90℃ for 20-40min, and the maillard reaction products were obtained.
(3) Add 0.5-1.5 times the weight of eel Maillard reaction product water, add alkaline protease and flavor protease, hydrolysis at 50-60℃ for 3-4 hours, then kill the enzyme, centrifuge separation and discard the upper oil and lower sediment, the resulting supernatant is eel enzymolysis solution; The amount of alkaline protease and flavor protease accounted for 0.3-0.7% and 0.8-1.2%, respectively, according to the quality of the reaction product of eel Merah.
(4) Concentrate the eel enzymolysis solution and add salt until the content of salt in the concentrated eel solution is 17-19% (W/V); (5) Add 4-8 times the volume of raw soy sauce to the concentrated solution of salted eel, stir it at 85-95℃ for 45-60min, cool it naturally to room temperature after heating, and stand sealed at room temperature for 7-14 days; Then filtrate, collect through liquid, mix or not mix, get eel soy sauce
How to homemade eel sauce?
What do you need for kabayaki sauce
l half cup soy sauce
l Half a cup of Japanese sweet sake
l a small amount of sugar
1, the raw materials are ready.
2. Combine the soy sauce, Japanese sweet rice wine and sugar in a saucepan over medium-high heat.
3. Bring to the boil, turn down the heat and simmer for a few minutes. To use the sauce, remove from the heat and allow to cool.
The article is discussing the process for making Japanese sweet rice wine. To make it, you will need to take glutinous rice, wash it thoroughly, put it in a large container, and soak it
The difference between eel sauce and other sauces
uangi sauce for unagi eel, and Teriyaki sauce for teriyaki chicken, are both made with soy sauce, Japanese liquors and sugar.
The difference between Kabayaki and Teriyaki is the amount of ingredients used. Teriyaki sauce uses all of these ingredients, including soy sauce, while Kabayaki sauce only uses 30 percent of these ingredients. The addition of soy sauce makes the sauce more tasty.
"When making kabayaki sauce, all three ingredients are easy to source.Pure sweet rice wine can be found in hon-mirin and shochu is a low alcohol content rice wine.
Eel and salmon are often served with kabayaki sauce in Japanese cuisine, but catfish, sea bass and other fish may be served with kabayaki sauce.Unagi sauce is usually served with few ingredients, and takes only a short time to cook.